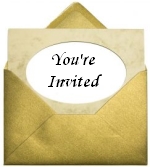 Whether you're a blogger, business owner, or individual with an event to promote, you can spread the word and drive an online buzz about it using the free tools of the social Web.
Some tools integrate directly into popular social networking sites like Facebook and LinkedIn while others not only let you promote your event but also let you search for events, people who might want to attend your own event, and more.  Suffice it to say, the social Web offers everything you need to create a successful event buzz at your fingertips!
Following are five easy-to-use and free social media tools that you can use to promote your online and offline events across the social Web:
1. Facebook Events Application
If you use Facebook, then you should try the Facebook Events application which enables you to promote an event on Facebook, invite other users to attend, accept and manage RSVPs, and more.
2. LinkedIn Events Tool
LinkedIn is quite possibly the best social networking tool for business-to-business marketing, so if you're trying to promote a business-to-business event, LinkedIn Events is a great tool for you.  Of course, you can also promote business-to-consumer events using LinkedIn Events.  You can use this free tool to announce and promote both public and private events, and you can also manage RSVPs and attendance.
3. Eventbrite
There are a number of companies that offer websites which make it easy to announce, promote, and manage events.  Eventbrite is one of the best.  With Eventbrite, not only can you announce your online or offline event, but you can also sell tickets, send email invitations, and collect donations.  Eventbrite also enables you to search other local events, so you can find events you want to attend or target potential attendees for your own event.  Eventbrite also integrates with Facebook for additional promotion through the most popular social networking tool.
4. Localtweeps.com
If you want to promote your event on Twitter, then Localtweeps is a great Twitter application that can help you do it.  Localtweeps enables you to search for Twitter users by geographic region using zip codes, city names, or keywords.  This feature could be very useful in helping you find people in your area who might want to attend your event.  You can follow those people on Twitter and then reach out to them about your event.  You can also announce and promote your own event on Localtweeps.
5. Twtvite.com
Twitvite is a Twitter application that enables you to manage tweetups, which are in-person events where Twitter users get together to socialize and network for fun or business).  You can announce, manage and promote your own tweetups using Twitvite, or you can search for tweetups in your area in an effort to find more people who might be interested in your own tweetup events.
These are just a few of the most popular tools to drive a buzz about your events using social media.  What is your preferred tool to promote your online and offline events across the social Web?  Leave a comment and share your opinion.