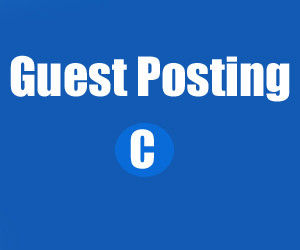 Not all guest posts were created equal. Guests posts offer a variety of different advantages for your blog – one that isn't summed up with just one Internet marketing strategy like providing your web site with more "link juice" or getting a trickle of traffic because of your opportunities. No – guest blogging is more than just that.
There are many blogs out there that are strictly dedicated to the idea of guest blogging and what it can do for your website. It is something of a huge phenomina in which whole websites were created for to help people find better and more guest blogging opportunities. It is a marketing strategy that has taken hold of the SEO and it seems as if it might be here to stay for a while because of all the benefits it provides, not only the people that are doing the guest posting, but websites that are created from guest posting.
In fact there are many websites out there that get 100% of their content strictly from outside sources such as guest posting. Guest posting has affected the Internet world like nothing we have ever seen before. Here are a concepts of what guest posting actually is and what guest posting actually does for your web site.
Branding
High Powered Networking
Gains Exposure
Link building
Traffic Building
When Should You Guest Post and When You Shouldn't
Not all guest posts, not all blogs, and not all networks were created equal. One of the "golden rules" of link building is that if you can receive traffic from a link, then it is probably best to build that link. The same can be said with guest posting but I would argue that you should take it a little bit farther and only guest post if you get substantial traffic from that guest post.
Now, substantial traffic can mean many different things. It all really depends on where you are at in terms of the strength of your web site at the moment, and if you are barely getting traffic in the first place, then getting more guest posts whenever you have the opportunity to obviously will make a little more sense.
How Do You Get the Most Traffic From Your Guest Posts?
Your guest posts, since you are posting on another website, and in a lot of cases a website that may perhaps get A LOT more traffic than your website, have to be some of the best content you can come up with. If you are going to want to convert a lot of the traffic you get, into normal and frequent visitors, then you need to make sure that your guest posts are top notch quality.
First thing is first. Do not look at blogs solely as metrics that your SEO Quake Bar feeds you. There are many Page Rank 2 (and even 1 in some cases) blogs and websites out their that can provide amazing benefits to your website out their and there are also many different PageRank 3,4 and even 5 blogs out there that would not provide as much value to your website. PageRank is not a magic number – I try to stress this fact as much as possible.
There are many different other factors when picking and choosing yuor guest posting opportunities other than page rank.
Is your article going to have a chance to rank at the top of the SERPs?
Does the website have a solid base of readership?
Is the website getting a lot comments on each blog post?
When was the last time the website got updated?
How is the quality of the content on the blog? Is the web site actually providing value on the Internet or is it more of a content farm?
How relevant is the web site? Are these the types of visitors that you are going to be able to turn in to frequent visitors?
Is the site a good target for cross promotional strategies?
As you can see, there are many different reasons that you should do a guest post on a web site. To get the best results, you should look for websites that have very positive results in terms of the criteria mentioned above. You should also do a lot of research for what it is that you would like the article to rank for.
When approaching guests posts from this angle, you should definitely approach each and every one like you approach your own web site. You should get a set of keywords that you would like to aim at ranking for and then you should sprinkle them throughout your content.
If you can maximize the amount of traffic your guest posts gets, you can maximize the traffic you will get, and also the amount of people that link to your site and that guest pot naturally – will add a lot of "link juice" to your site. Like posting on your own site however – it all starts with the quality of your content.