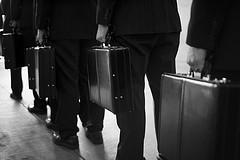 The Performancing team is proud to announce that the Jobs board is now back.
Since the migration of Performancign from Drupal to WordPress, we've had to momentarily drop a few things that were heavily reliant on Drupal, such as the forums and the job board (which is actually a thread in the forum), among other things. Just recently, we've installed a plugin that can support job listings from right within WordPress.
Do check it out at performancing.com/jobs.
Submissions are free, and each entry will stay online for seven days. For better visibility, though, you can subscribe to a premium listing for $20, which will be displayed at the top of the list for 30 days.
The job board supports listings for jobs and offers for writing, blogging and related services.
If you have an opening for a writing or blogging job, please feel free to add it to the list. Same goes for freelancers who want to offer blogging services for a fee. Be sure to include your contact information and even links to your existing portfolio, to make application easier. The plugin usually asks for a location, but we understand that most blogging jobs are probably virtual office or freelance in nature. Still, some blog networks or employers might want to hire writers or bloggers as in-house staff, so this is still applicable.
Good luck with finding the ideal job, or the ideal blogger, as the case may be.